Games Star Wars are multiplying and if some are impatiently awaiting the formalization of Star Wars Jedi: Fallen Order 2which could be named Star Wars Jedi: Survivor and which could be revealed next week, other fans of the saga are waiting for the return of Star Wars KOTOR with its remake. We already knew that the studio Aspyr was in charge of the project, but he will obviously not be alone in charge, since Saber Interactive has come to lend a hand.
Aspyr is not alone
We learned this in the Embracer Group's latest financial statement, the new industry giant that owns the Aspyr studio. In this recent report, the publisher talks about the remake of Knights of the Old Republic specifying that Aspyr is not alone:
" Aspyr has pulled out all the stops to make this the best game they can make. When we acquired Aspyr, we knew from the start that they would need our help.. Saber has considerable expertise in creating these types of products. […] We're fully confident that the game is going to be fantastic, but it's a massive project and massive projects take a lot of effort and a lot of time to be good, and especially when you're talking about a game that's very old, that we basically had to redo from scratch. »
It is true that when Aspyr was announced behind the project, it was difficult to see how a studio like this could work alone on a remake of this magnitude. Saber Interactive will indeed not be too much to carry out such a project, which we hope to hear from soon.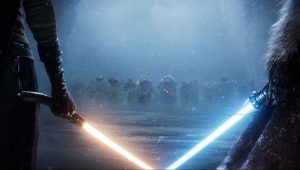 Read also :
Star Wars: Here are all the games that are currently in development