Announced last December, Gerda: A Flame In Winter is one of the first games published by the French of DONTNOD Entertainment after Twin-Mirror last year, which they had also developed. They are the Danes of PortaPlay, the creators of Broken Lineswho therefore develop here the first game only published by DONTNOD Entertainment, game scheduled for September 1, 2022 on PC via Steam and on Nintendo Switch.
Gerda: A Flame In Winter tells us the story of Gerda, a young nurse married to Anders, a mechanic, in a small town in Denmark in 1945. Between resource management, choice of dialogues and management of relational skills, we were able to try this game atypical for a handful of hours thanks to an overview offered by the publisher.
Preview conditions: We were able to try our hand at a non-definitive version of Gerda: A Flame In Winter on Steam via a demo that allowed us to play the first 2-3 hours of the title.
The ball between two courts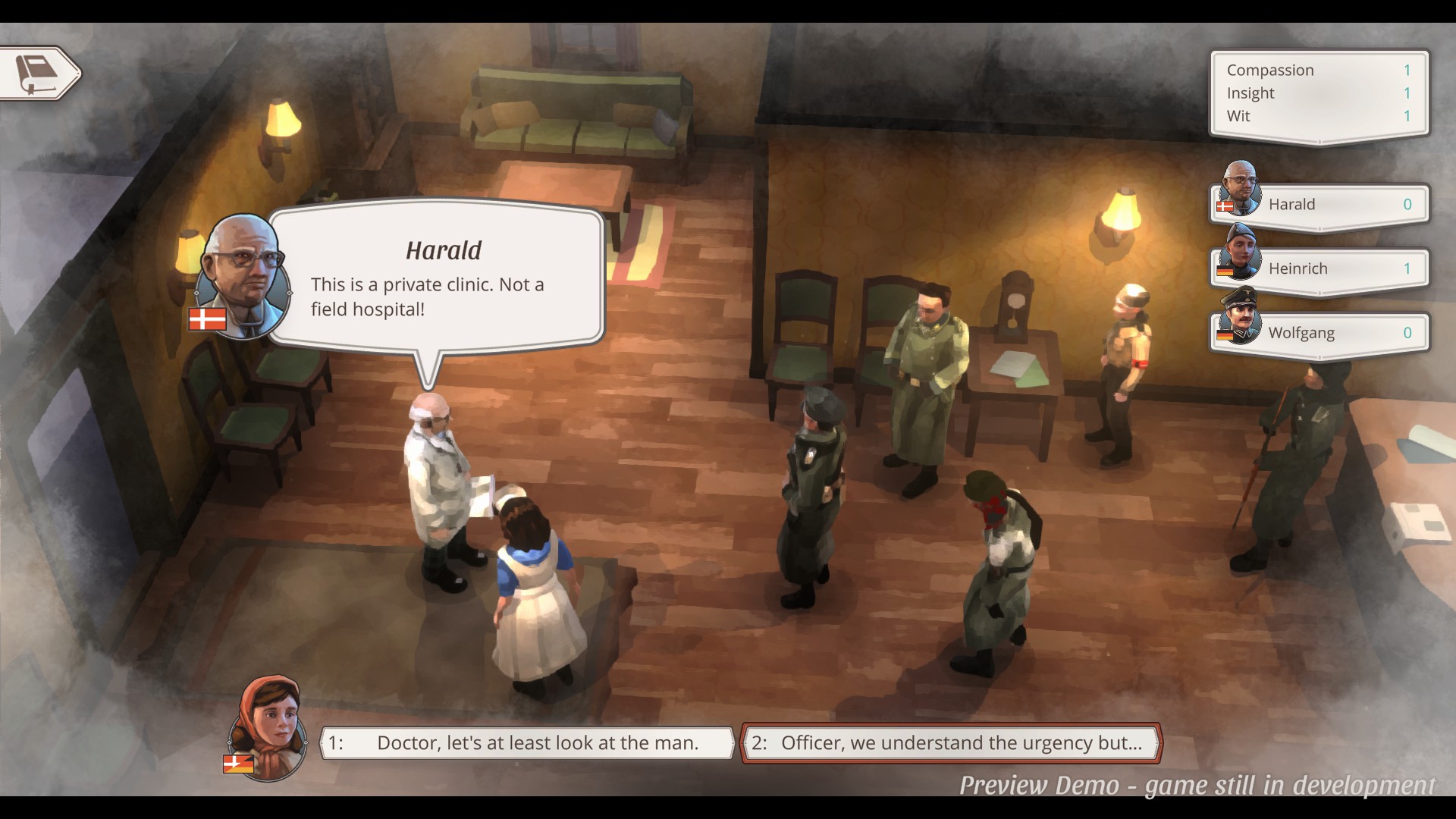 February 1945. We are a few months away from the end of the Second World War. The inhabitants of a small town in Denmark, Tinglev, remaining relatively spared since the beginning of the conflict, find themselves confronted with the presence of German soldiers in their regions.
Gerda, a young nurse who is half-German by her father and half-Danish by her mother, returns to her hometown to take up a position in the small town clinic. Accompanied by her husband and her father (a soldier rather engaged on the German side), you start the adventure with your quiet little life, little disturbed by the military presence.
While returning from work one evening you notice the presence of a Gestapo car on your land, you will quickly have to deal with the capture of your companion for a supposed activity in an organized resistance. During the 2h30 about how long did this first approach to Gerda: A Flame in Winterwe do not have only touched upon the consequences of the actions of such resistance on the Danish city but everything looked promising.
The game showing up in the form of a visual novelwith a succession of speech bubbles (entirely in English for this demo) punctuated by your heroine's response choices, you will travel through the city through various iconic places such as the clinic, the resistance dens or a factory in bad shape.
Presented in the form of a card, the city is not available to explore in an open manner. Moreover, you will only have a few trips to make, the main time devoted to the game lies in these sequences of dialogues. The scenario of this demo lets us predict a fight by Gerda to free her husband, investigate the actions of the resistance, while understanding the workings of a war seen by the rural world.
We can then finally say little about the scriptwriting power of the title as the story has only been covered over a fairly short period of time. Nevertheless, we can sleep and already notice the writing quality of almost all dialogue and scenes interspersed with audio playback diaries written by Gerda also allowing you to find your way around your objectives.
Type 1 to lie and Type 2 not to tell the truth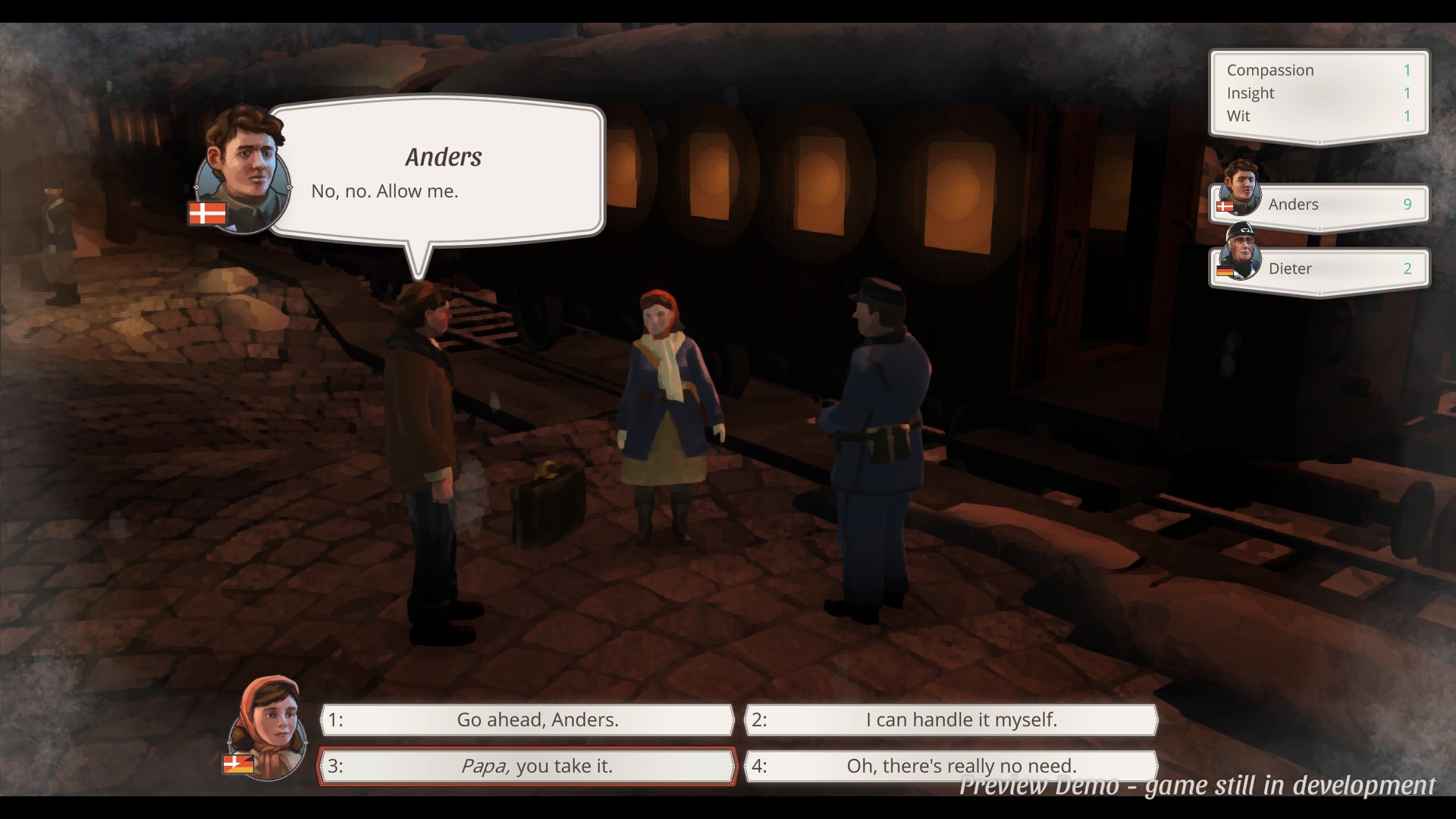 We said, all the salt Gerda: A Flame In Winter lies in its choices, more or less moralin almost all the dialogues present in the game. In the form of a RPG-liteGerda will own 3 distinct characteristics (literally Intelligence, Insight and Compassion) that he will have to cultivate by choosing between several dialogue options advancing the story between each chapter.
Within these chapters, certain dialogue choices will be offered to you but will also consume these skill points. You will then have the choice to use them or rather to stay in "free" proposals. Sometimes you will also be offered choices related to your degree of trust between other characters (on the right of the screen) or an exchange of duly harvested resources.
Because yes, in Gerda: A Flame In Winteryou should rummage around to find matches, alcohol, documents, resistance cards etc., so many elements that can open doors for you later or gain the confidence of a character in difficulty. If you do not have the item in question, you can sometimes choose to leave your fate to chance with a choice symbolized by a dice (green or red depending on the probable result) adding a part of chance in your adventure.
Associated with this exploration mechanic, you will find "timed" sequences where each popup action will consume time. Take advantage of these moments to find information that will be useful to you in a guarded office, or to seek evidence to clear your husband of charges of treason.
All the significant events, all your encounters as well as all the historical information gleaned during your adventure will be recorded in your personal diary. A veritable bible, you will find very complete historical archives on key elements and moments of this Second World War.
You can also read more information about the twenty or so NPCs to meet (at least in our demo, to be confirmed when the game is released), their secrets to find during the dialogues but also your quality of trust and relationship with them. Keep in mind that any decision, line of dialogue, object given or found, can influence (all things considered) the continuation of the adventure and in particular on whole sections of dialogue as well as on the quality of your relationships.
Indeed, for example during our adventure, the simple fact of refusing to sit on a chair in the office of a high-ranking German was enough for us to drop our relational rating with this same soldier by one point and thus complicate the continuation of the conversation by exhilarating certain choices that may be crucial.
Don't get me wrong, however, almost all of the choices made so far have not transcended and transformed the rest of our adventure to the point of completely deriving from the main guideline. Only the final choices of our demo could lead, one imagines, to more repercussions in the continuation of the Danish epic of Gerda.
A beautifully hand drawn danish painting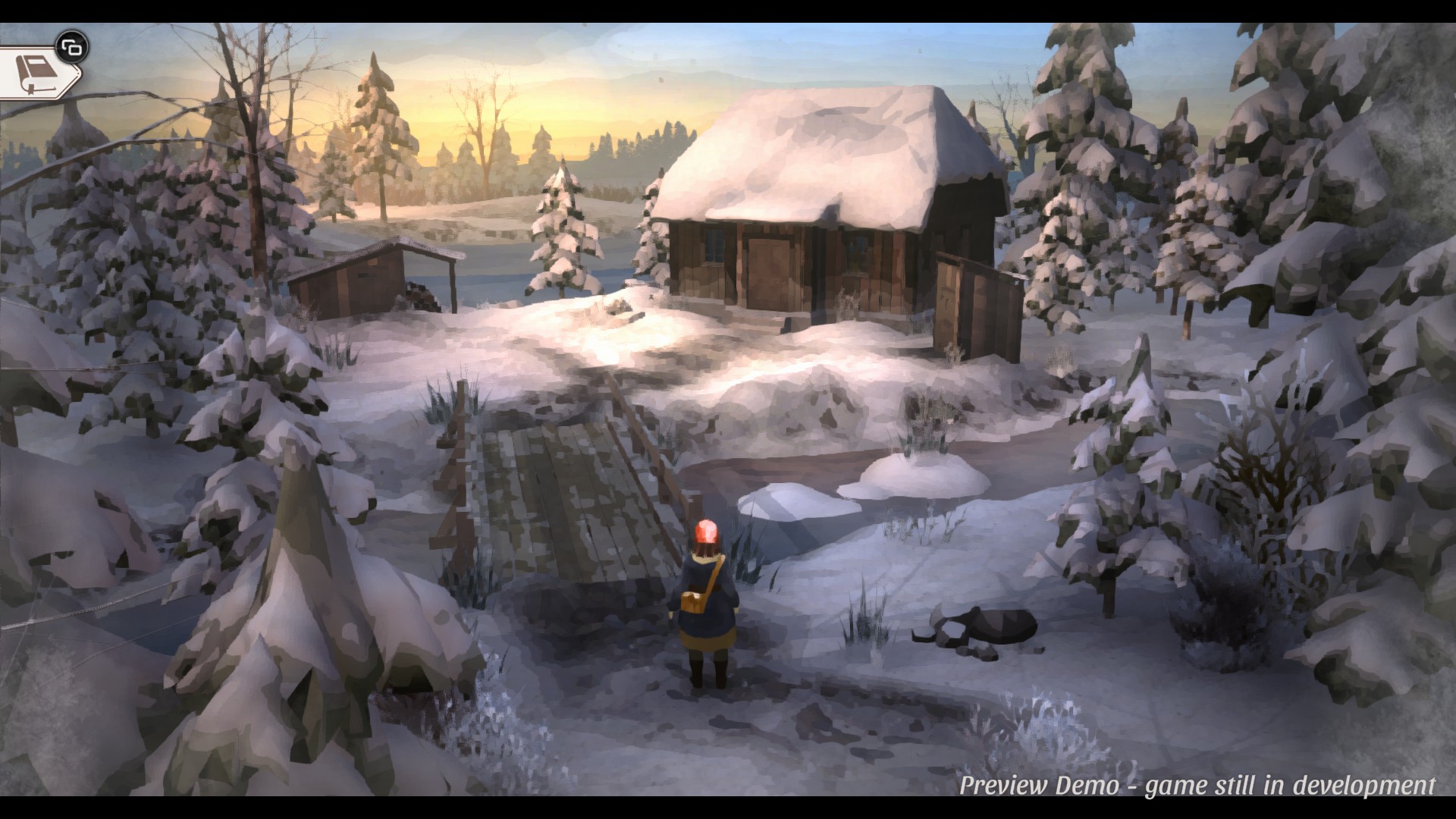 The game's Steam page describes the visual style of novel-art in relation to the nordic impressionist painting. A visual originality that has its effect, especially during our visits to the snowy landscapes of twilight Denmark. Places and characters, unflattering at first glance, finally get the charm desired by the developers under the aegis of oil paintings coming to life in front of us. A real peculiarity that characterizes the game published by DONTNOD Entertainment, although we only saw snowy landscapes during our demo.
On the technical side, we noticed that the loading screens, quite numerous, were relatively short (on a medium with an SSD at least) and we did not encounter any particular bug. The soundtrack, calm, lyrically sounding evenmake the whole thing very soothing and pleasant to browse despite the harshness of the topics covered.
Note that the game can also be played on the controller with less efficiency, however. When released later this year, Gerda: A Flame In Winter classified PEGI 16, will be available in 8 languages ​​but will only have English in the audio offered.