The cartoon Paw Patrol is now one of the most popular among children, and it is entitled to many video games suitable for the little ones, such as PAW Patrol: The Super Patrol Saves the Great Valley. Outright Games today held a presentation of its future titles intended for a young audience, and the publisher took the opportunity to reveal the very first images of PAW Patrol, la Paw Patrol: Grand Prix.
The Pat'Patrouille launches into kart racing
In this new one, it's time for the race, since our favorite canine heroes will have to be the fastest on the track to win first place. We can then drive on 11 different routes placed within the Great Valley and in other settings, such as the jungle or the mountains, in the company of Jake and the other Paw Patrol puppies.
Traps left by the evil mayors will serve as obstacles, so be careful where you ride. It will even be possible to customize the karts with more than twenty objects from the cartoon.
The game then presented itself as a sort of Mario Kartaccessible to the youngest, with the possibility of playing with friends or family up to 4 people. An Easy mode allows children to accelerate automatically and a guidance system will prevent them from going off the trackso that they can make the most of the race.
Good news, this racing game will be released very soon, since it is currently planned for the next september 30. PAW Patrol, la Paw Patrol: Grand Prix will be available on PC, PS4, PS5, Xbox One, Xbox Series, Nintendo Switch and Stadia.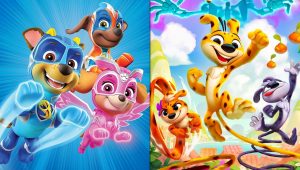 Read also :
What are the best video games for kids?