Fifa 22 has just announced Team Of The Week n°35, available for one week (you can read or re-read our article about trophies and achievements).
35th Team Of The Week!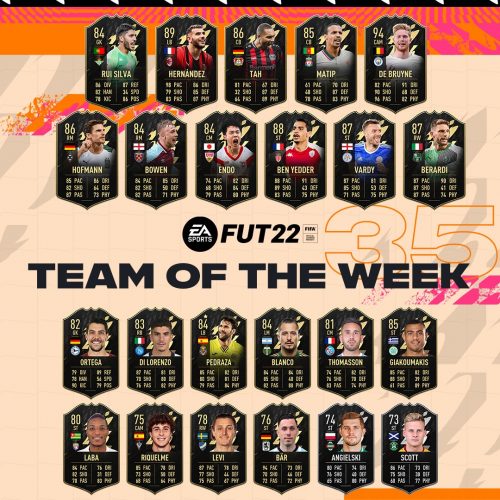 the guardian is the Portuguese goalkeeper of Betis Sevilla: Rui Silva (84).
The defense is done around Matip (85), Tah (86) and Théo Hernandez (89).
the Midfielder is as follows: Endo (84), Bowen (84), Hofmann (86) and De Bruyne (94).
L'offensive consists of Berardi (87), Vardy (87) and Ben Yedder (88).
The replacements and reserves to remember this week are the following: Ortega (82), Di Lorenzo (83), Pedraza (84), Blanco (84), Thomasson (81), Giakoumakis (85) or even Laba (80).
Players are available in packs until next Wednesday.
FIFA 22 is available on PlayStation 5, Xbox Series X, PlayStation 4, Xbox One, PC and Stadia.